E-commerce Trend Tracker - Infographic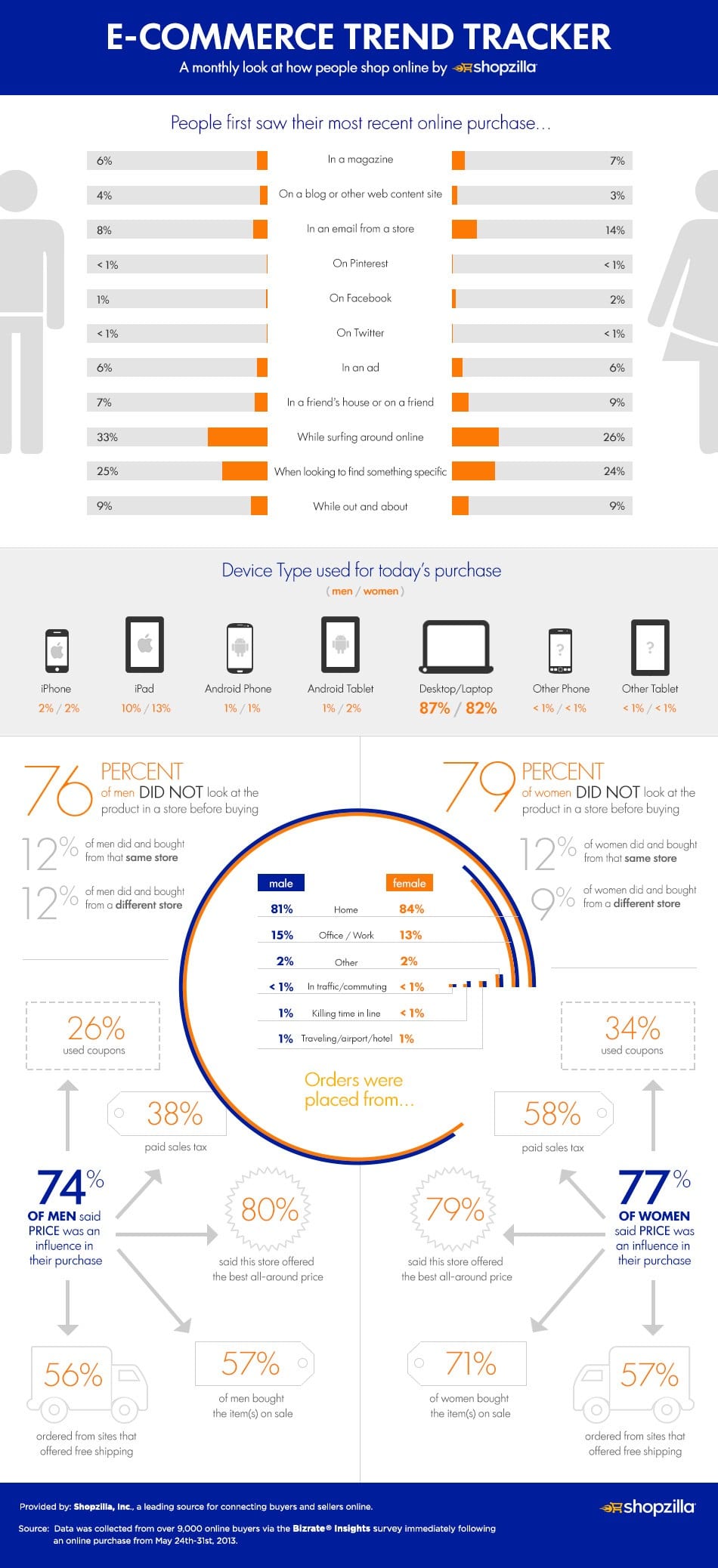 Source Smartinsights.com
Fun Facts: Social Media & Shopping - Infographic
Source Bizrateinsights.com
Scandinavian ecommerce amounts to EUR 4.9 billion in Q1 2014 - report
According to this, during Q1 2014, 7 in 10 Nordic residents purchased items online for a total value of nearly EUR 4.9 billion (SEK 44.2 billion).
"PostNord's ecommerce-related B2C parcel volumes increased by 15% in the same time frame."
"75% of Norwegians shop online, while Finland records 66% of its consumers purchasing online in Q1 2014. Mailbox delivery is the most popular delivery alternative in all Nordic countries except Finland, where the preference is to pick up goods purchased online at a partner outlet."
"Out of the total EUR 4.9 billion, the report estimates that around EUR 1.1 billion (SEK 10.1 billion) was generated from ecommerce conducted by consumers via sites they consider foreign."
"33% of Nordic-region ecommerce mail items during the period came from foreign countries, according to consumer estimates. When Nordic residents shop online from foreign sites, they prefer sites from the UK."
More info here.
New Frontiers for European Entrepreneurs Event
EBN, en coopération avec la Commission Européenne, Deloitte et DIGITALEUROPE a organisé le 29 Avril 2014, les "New Frontiers for European Entrepreneurs Event" dans les locaux de The Egg à Bruxelles, événement de succès qui a représenté une bonne occasion pour PECOS4SMEs de diffuser son action entre les acteurs d'innovation de l'UE.


NFFEE, essentiellement un regroupement des plusieurs initiatives européennes dédiés à la promotion de l'innovation, de la créativité et de l' esprit d'entreprise tout en envisageant la croissance en Europe, a présenté les meilleurs 100 + start-ups technologique, les entrepreneurs et les PMEs Européennes avec un potentiel de croissance exponentielle dans les marchés internationaux et les a réunies avec les investisseurs, les mentors etles intermédiaires de soutien aux entreprises .


Avec un stand dédié et étant le sujet principal d'un court atelier, PECOS4SMEs faisait partie d'une série de présentations sur la formation des investisseurs, l'internalisation et l'accélération des activités des entreprises et sur leurs possibilités de interaction avec des investisseur surtout au niveau transfrontalière.

Le projet, même en se concentrant sur des aspects secondaires en rapport avec les sujets principaux de la conférence, a reçu plusieurs expressions d'intérêt en relation au développement de l'e-commerce en Europe de part des intervenants, avec un bon niveau de participation à sa présentation et a créé les conditions pour une série de futurs possibles contacts .
Marc Barach, Jumio: "The challenges of payment security have always been a balancing act"
The Paypers published an interview with Marc Barach, Jumio, on the subject of payment security.
"As mobile consumers, we seem to have a voracious appetite to get the full range of life's tasks accomplished on our connected devices. Conducting shopping, travel, banking, investing and more are now commonplace, but each one of these activities at some point requires the consumer to fill out long forms on their device. And that's the problem. Numerous studies show that the more data a consumer must key enter in order to complete a process, the greater is their drop off. That's something businesses cannot afford. Jumio's mobile offerings use computer vision technology to scan and validate credentials obviating the need for time-consuming key entry. This allows consumers using our clients' apps to speed though sign-up and checkout processes, which translates into higher completion rates and satisfaction. This service is offered through three of our products: Netverify, Netswipe and Fastfill."
"The challenges of payment security have always been a balancing act. The industry is often toggling between making the payment process as convenient as possible for the consumer yet safe for the merchant. If that's out of balance, which is often the case, the merchant is always on the failing end from either losing customers or having high chargeback and fraud costs. The two objectives, ease-of-use and fraud control, have historically been at opposite ends of the continuum – typically when security goes up, the consumer suffers and, if security is lax, the merchant suffers. Jumio has developed a service that breaks open that paradigm – so that both security and consumer experience are improved."
"Companies such as Amazon pioneered the 'one click' purchase which is incredibly popular with consumers but, in our view, isn't the end of the line. We're working toward the goal of 'no key entry' transactions, which represents the next step on the ease-of-use trajectory. This means that real-time authentication activities need to take place behind the scenes while the consumer sails through the transaction. Online merchants spend so much time, money and energy getting people to their websites and apps and often forget that getting them successfully through the sign-up and checkout processes are just as important to meeting their revenue goals."
"Most security processes today use indirect ways such as knowledge-based authentication to authenticate the ID of the transacting customer. These can be effective, but none of them are as good as using the source document (passport, driver license, government ID) or as consumer friendly. Fast, easy and intuitive processes are what create great consumer experiences, which contribute to higher completion rates and revenue. As consumers become more sophisticated, especially on mobile, the tolerance for slow and complex processes is diminishing. At the end of the day, merchants have to figure out how to manage fraud without turning away legitimate consumers. Our whole business is built around making sure we do exactly that."
More info here.